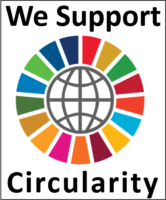 Cities and urban communities represent the most powerful leverage points for the transition to circular economy (CE) models.  But, the complexity of urban territories with the interrelation of several systems and sub-systems makes this challenging.
Cities struggle with their transition to a circular economy.  Without a sustainable, circular economy, our communities will suffer further harm to the environment, the biosphere, and socioeconomic development.
To transition to a circular economy, local authorities must embed circularity in local economic and community plans and mandate local action plans.  The sustainability and circularity of the community are contingent on businesses, their customers, and circular economy policy implementation by local authorities.
Local and regional authorities, businesses, and community citizens must collaborate to address the challenges posed by key value chains and to implement and engage in the circular economy.  Circularity calls for urgent, comprehensive, and coordinated actions to form an integral part of the sustainable community framework.
Among many constraints are the lack of new consumption models, plants and sharing platforms, intersectoral collaboration among cities, and citizen participation.  Moreover, the competencies of local and regional authorities to take CE initiatives vary and commonly overlap in the roles of different levels of governance.
A change in business practices that the circular economy calls for is commonly met with resistance.  To counter this, the key stakeholders must collaborate, their effort must be coordinated, and a baseline understanding of circularity in the community must be shared.
Circularity in the built environment relies on municipal building authority to regulate development as a condition of land sales, purchasing or zoning.  Moreover, municipalities must have the technical ability to evaluate the social, economic and environmental impacts of further development of the built environment.
The municipality must implement best management practices for construction and demolition waste (CDW) and have the authority and responsibility to prohibit environmentally disruptive and destructive development projects and certain building materials.  Preference must be given to salvaged, reused, and recycled products in the selection of construction materials for use in the community.
Municipalities have the responsibility to protect citizens and local natural areas.  This can be assured through the development and implementation of sustainability and circularity at the community level.
We call upon our local and regional authorities to implement best practices and policies to accelerate the sustainable development of our community and the transformation to a circular economy. 
Recent relevant information, intelligence, announcements, issues of interest, and current events.
---
---
No items found
Knowledge, guidance, tips and tools for the development and operation of a sustainable community.
---
---
Discussion